Shih Tzus are a popular toy breed originating from Tibet, known for their affectionate, friendly nature and distinctive appearance. As with any breed, there are pros and cons to owning a Shih Tzu. Here's a look at the various advantages and disadvantages associated with this breed, in order to provide a comprehensive understanding of what to expect when owning a Shih Tzu.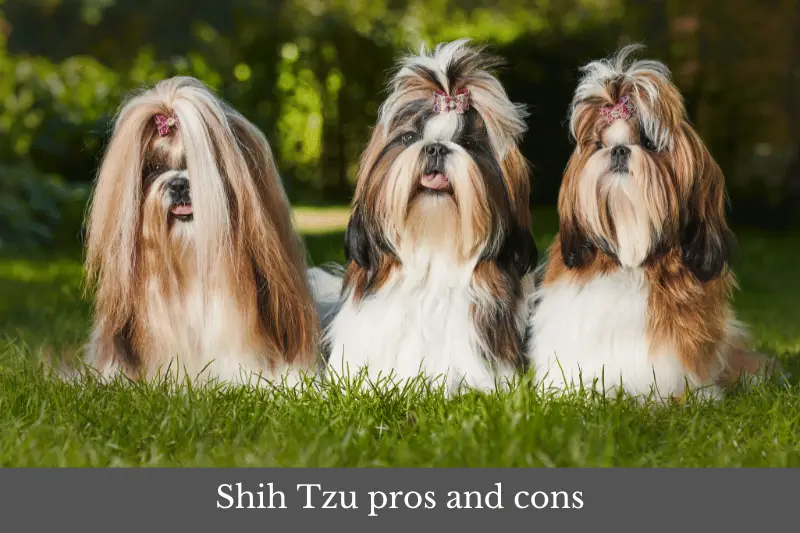 Shih Tzu pros and cons
Pros
Affectionate and friendly temperament: Shih Tzus are known for their loving and sociable nature. They are particularly fond of human companionship and enjoy spending time with their owners. This makes them an ideal choice for individuals or families seeking a companion dog that thrives on attention and affection.
Adaptable to various living environments: Shih Tzus can adapt well to different living situations, including apartments and smaller homes. Their small size and relatively low exercise requirements make them suitable for urban living and for owners who may not have access to large outdoor spaces.
Good with children and other pets: Due to their friendly and gentle nature, Shih Tzus generally get along well with children and other pets, making them a suitable choice for families. It is important, however, to teach children how to interact appropriately with dogs, and to always supervise interactions between dogs and young children.
Low shedding: Shih Tzus have a double coat that sheds minimally, making them a good option for people with allergies or those who prefer a lower-maintenance dog in terms of shedding. Regular grooming is still required to keep their coat healthy and free of tangles.
Suitable for first-time dog owners: Shih Tzus are a good option for first-time dog owners, due to their friendly and adaptable nature. While all dogs require time and commitment, Shih Tzus are generally considered to be a more manageable breed for those who are new to dog ownership.
Cons
Summary
Shih Tzus are affectionate, friendly dogs that can make wonderful companions for individuals or families. While they have several advantages, such as their adaptability to various living environments and low-shedding coats, they also come with certain challenges, including extensive grooming needs, potential health issues, and stubbornness during training. Prospective owners should carefully consider these pros and cons when deciding if a Shih Tzu is the right fit for their lifestyle and be prepared to invest the necessary time and effort into providing a loving, well-rounded environment for their pet.
See also