Shih Tzu dogs are known for their small size, cute appearance, and lively personalities. These little dogs are a popular choice for many pet owners, but one concern that potential owners may have is whether or not Shih Tzus bark a lot. In this article, we will explore this question in detail, looking at the reasons why Shih Tzus may bark and how to train them to bark less.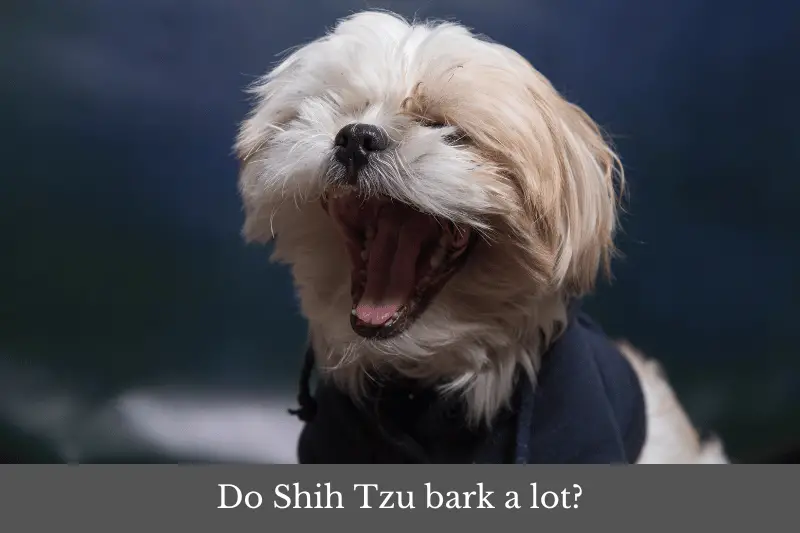 Do Shih Tzu bark a lot?
First, it's important to understand that all dogs bark to some extent. Barking is a natural behavior for dogs, and it serves a variety of purposes. Dogs may bark to communicate with other dogs, to alert their owners to potential threats, or simply because they are excited or anxious. In the case of Shih Tzus, they are known to be vocal dogs, which means that they tend to bark more frequently than some other breeds.
There are a few reasons why Shih Tzus may bark more than other dogs. One reason is that they are known to be very loyal and protective of their owners. If they perceive a threat, they may bark to alert their owners or to try to scare off the perceived threat. This can be a helpful trait in some situations, but it can also lead to excessive barking if the dog perceives threats where there are none.
Another reason why Shih Tzus may bark more than other dogs is that they are a breed that thrives on attention. They love to be around their owners and may become anxious or bored if they are left alone for too long. This can lead to excessive barking as the dog tries to get its owner's attention or express its frustration at being left alone.
Additionally, Shih Tzus are known to be very social dogs, and they may bark when they see other dogs or people. This can be a problem if the dog is constantly barking at passersby or other dogs, as it can be annoying to neighbors and other people in the area.
So, do Shih Tzus bark a lot? The answer is yes, they can be vocal dogs and may bark more than some other breeds. However, it's important to note that excessive barking is not a behavior that is unique to Shih Tzus. All dogs have the potential to bark excessively, and it's up to the owner to train their dog to bark less.
How to stop a Shih Tzu barking so much
The good news is that there are several strategies that can be used to train a Shih Tzu to bark less. One of the most effective strategies is to provide the dog with plenty of exercise and mental stimulation. This can help to reduce boredom and anxiety, which are common triggers for excessive barking. Taking the dog for regular walks, playing games with it, and providing toys and puzzles can all help to keep it entertained and mentally stimulated.
Another effective strategy is to train the dog to be quiet on command. This can be done using positive reinforcement techniques, such as rewarding the dog with treats or praise when it stops barking on command. Consistency is key when training a dog, so it's important to be patient and persistent in the training process.
It's also important to address any underlying health or behavioral issues that may be causing the dog to bark excessively. If the dog is experiencing pain or discomfort, it may be more prone to barking. Similarly, if the dog is suffering from separation anxiety or other behavioral issues, these should be addressed through training or other interventions.
Summary
In conclusion, Shih Tzus are known to be vocal dogs that may bark more than some other breeds. However, excessive barking is not a behavior that is unique to Shih Tzus, and all dogs have the potential to bark excessively. By providing the dog with plenty of exercise and mental stimulation, training it to be quiet on command,
See also