While it's possible to groom your dog perfectly well at home yourself, or take your dog to a local groomer, mobile dog grooming services are becoming increasingly popular.
Groomers who provide mobile services will typically work from the convenience of their own van in your driveway, but some of them may even be willing to work directly out of your home.
There are several things to take into consideration before choosing a mobile dog groomer, though.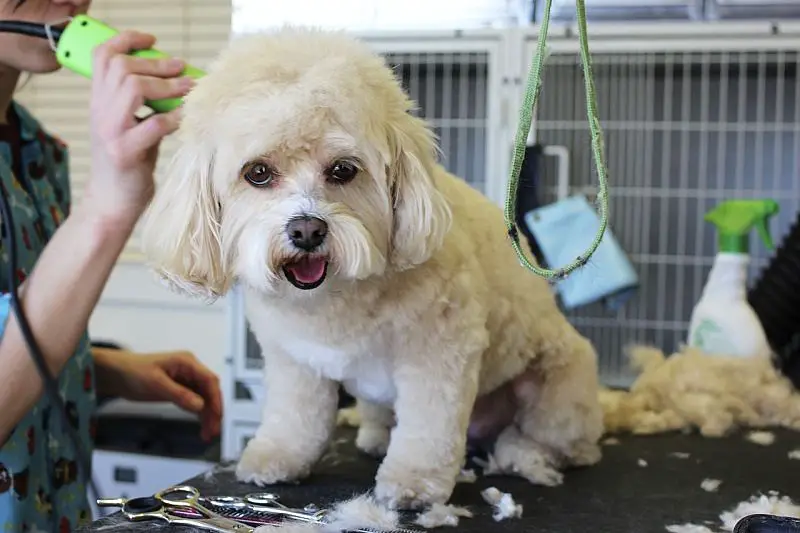 Pros and cons of mobile dog grooming services
Here are some pros and cons of mobile dog groomers to keep in mind.
Transportation
Some dogs are terrified of car rides. This can make transporting your dog to the local groomer a chore.
A mobile dog groomer can be the perfect solution. You won't need to worry about getting your dog into the car or dealing with his anxiety on the way there.
It can also be an ideal option if your dog has arthritis or any other health condition that makes climbing in and out of the car difficult.
A groomer who will come to your home may be an easier solution for you as well. If you are unable to drive for any reason, having a mobile groomer come to you would likely be more convenient than arranging for transportation to and from a traditional groomer. It can be a perfect solution for senior citizens, for example.
Scheduling
Dog grooming businesses often have set work hours. They may be closed on weekends or after work hours.
This can make it difficult to find the time to squeeze a grooming session into your schedule.
Since mobile groomers often set their own business hours, they may be more willing to work with you to find the best time to groom your dog.
Price
One of the downsides to mobile dog grooming is that it tends to be slightly pricier. Most groomers who come to your home will factor in the price of gas. Depending on how far away they are located, this can be costly.
Another factor to take into consideration is a tip. The amount that you tip should be determined by several factors, but it's ideal to tip a little more than you normally would to show your groomer how much you appreciate her coming to your home.
You may also want to tip more if any special accommodations have been made, such as odd scheduling arrangements.
Summary
There are many factors to consider before deciding to use a mobile dog grooming service. While it can be a pricier option, it may also be a more convenient arrangement in some situations.