Disclaimer: As an Amazon Associate Small Fluffy Dog Breeds earns from qualifying purchases made via links on our website.
When you travel with your dog, you want them to be happy, safe and secure. And that means you don't want them to be free to move around and dangerously distract you. A good dog car seat will provide your dog with comfort and a touch of luxury while at the same time keeping them safe by tethering them to the seat belt. Below, we take a look at some of the best small dog car seats on the market.
Preview
Preview
Preview
Preview
Preview
It can be a pain for both you and your dog when you have to go on car rides together. Indeed, it can even be dangerous.
It can be a nervous and frustrating time for your dog, and it can be worrisome and distracting for you too if your dog refuses to settle and wants to keep running around, or howls and whines for the whole trip. And that's where car seats for dogs can be really handy.
A nice comfortable seat will not only keep your dog safe by preventing them from moving around but will also encourage them to lie down and sleep due to their sheer comfort and coziness.
Here are reviews of some of the best small dog car seats on the market.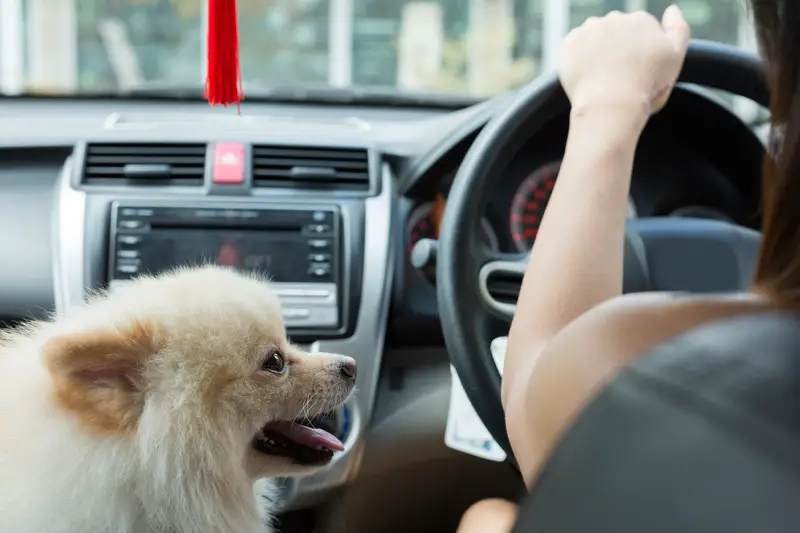 The best small dog car seats
PetSafe Happy Ride booster seat
Sale
PetSafe Happy Ride Booster Seat - Dog Booster Seat for Cars, Trucks and SUVs - Easy to Adjust Strap - Durable Fleece Liner is Machine Washable and Easy to Clean - Medium, Brown
Window seat: Boost your dog to the perfect height to look out the car window
Available in 3 sizes: Check the size chart to find the perfect size for your pup; The largest size booster seat comfortably holds 1 or 2 dogs weighing up to 25 pounds
Safe travel: Connect your car seat belt and use the safety tether to keep a restless pet secure
Stress relief: Give nervous or carsick dogs a smooth, enjoyable ride with three stabilizing attachment points
Comfort: The polyester oxford shell and soft fleece liner offer a comfy ride.Quick setup: Use the adjustable straps to install on any bucket or bench seat with headrests; Easy to remove; Folds flat for storage.Easy cleaning: Remove the liner and machine-wash to keep the seat fresh and clean; Store additional pet gear in the zippered pocket.U.S based customer care: Let our pet product experts help
3 different sizes available so you can find the perfect size for your dog.
Internal harness to keep your dog safe and secure.
Lovely and cosy, ideal for helping your dog to settle down for a quiet, comfortable ride.
Quick and easy to install.
3 attachment points ensure a stable ride for your dog.
Folds flat for easy storage.
Machine-washable liner.
Storage pocket.
Summary
One of the easiest to install (it takes under a minute once you know what you're doing) and most comfortable of small dog car seats on the market today, the PetSafe Happy Ride booster seat is sure to let your dog ride in complete comfort and security.
The stain-resistant liner is removable and machine-washable so you can be confident of a clean seat for your dog and no nasty odors for you and your car.
The zippered storage pocket is ideal for storing any doggy equipment you're taking with you on your ride.
Some dog car seats can be a little unstable meaning your dog doesn't get the most steady of rides. That's definitely not the case with the PetSafe Happy Ride as there are three attachment points on the seat which makes it very stable indeed.
---
Cozy Boost dog car booster seat
Sale
Blue and Black Cozy Boost with Clip On Leash- Premium Quality Dog Booster Seat and Collapsible Dish for Small Dogs, Puppies, and Pets Up to 20 lbs
🐾 INCLUDES: A free collapsible silicone dish and safety harness clip-on leash for the road!

🐾 WATER RESISTANT & WASHABLE: In case your furry friend has any spills or accidents, we got you covered! Based on the feedback of our many satisfied customers: The bottom/black exterior is a water resistant hard bottom and the liner is machine washable

🐾 STURDY & BUILT TO LAST:  Built with a high quality collapsible metal frame not like others who use plastic pipes. Our seats will NOT collapse and are very sturdy once installed using both straps on the headrest and base of seat.

🐾 EASY TO INSTALL & NO ASSEMBLY REQUIRED:  Easy installation in less than a minute! Adjust straps accordingly to your car. You can easily remove it by slipping it on and off your car seat! Completely collapsible so you can store it easily underneath a seat if you're not using it.

🐾 QUALITY GUARANTEED & SHOP WITH A PURPOSE - We are a woman-owned business based in the USA. We take pride in our premium pet products and regularly donate to animal rescues and no-kill animal shelters. Quality guaranteed, your furry friend will be 100% satisfied or your money back! *Must be purchased from Stella and Bear.
Detachable safety leash.
The height is completely adjustable to whatever height you desire, allowing you to use this seat in both the back and the front of the car.
Liner can be removed and is washable.
Super thick padded floor along with plus lining makes this seat really comfortable for your dog.
Completely collapsible for easy storage.
Summary
With its thick, soft padding the Cozy Boost will let your dog ride in true comfort and luxury. The safety leash inside the seat stops your dog from getting out so keeping them safe on their journeys.
Your dog is likely to sleep most of the time when using this seat (mine does!) but even if they don't, they'll be quite happy as its raised height means they can enjoy the scenery as you drive along.
The fully adjustable height means you can easily switch the seat from front to back of the car depending on how many people you have travelling with you, and the fact that the liner can easily be removed (it's attached with velcro) makes it easy to clean.
---
Kurgo Skybox dog booster seat for cars
Sale
Kurgo Rover Booster Dog Car Seat with Seat Belt Tether
Reduces Distracted Driving - Dog booster seat keeps your pup off your lap. Pet Car seat gives your pooch a window view where he can see out and enjoy the ride. Removable corduroy lining for comfort.
Easy to Install - Travel dog booster installs quickly & securely in either the front bucket seat or the smaller side of a 60/40 rear split bench seat. Includes metal supports for structural integrity.
Dog seat belt Included - Dog car seat belt tether is adjustable & easily attaches to any dog harness to keep your pup in his seat. Zippered storage pockets for toys, leashes, or other dog accessories.
Sizing & Fit - Recommended for dogs up to 20Pounds They can hold up to 30 Pounds, however 20-30 Pounds dogs 10d to have larger body masses & may not fit in seat dimensions. Dimensions: 12"D x 16"W x 8"H.
The seat belt tether is adjustable and attaches to any harness to keep your dog safely in their seat.
Quick and easy installation.
Sturdy and durable; the seat is waterproof and the metal supports mean it's very strong.
Lifetime warranty.
The seat is completely collapsible making it easy to store when not in use.
Suitable for use in both the front and back of the car.
Zippered storage pockets.
Summary
The Kurgo Skybox is a remarkably sturdy small dog car seat and is recommended if you want one of the most robust seats on the market. The adjustable seat belt tether attaches easily and simply to any dog harness giving you peace of mind that your dog won't be able to leap out of their seat.
The height is adjustable allowing you to use the seat in both the back and front of the car, depending on passenger numbers. Like the Cozy Boost, this seat is also fully collapsible allowing for easy storage.
Added bonuses are that this seat includes storage pockets to let you transport your dog's favorite toys and treats too, and it comes with a lifetime manufacturer's warranty.
---
Snoozer Lookout dog car seat
Snoozer Lookout I Pet Car Seat, Small, Black Quilted
CALMIER, HAPPIER DOGS. Dogs love looking out the car window, but many little dogs are too short to see out. Now your small dog can enjoy the view safely and comfortably in our Lookout I booster dog car seat. The Lookout elevated car seat is ideal for dogs who get carsick or anxious, as seeing out the window can calm anxiety and reduce queasiness. Even dogs who dislike car travel can learn to love it once they have their very own secure, comfortable spot to snooze in.
SAFETY AND COMFORT. The Lookout elevated dog car booster seat hooks into the seat belt system to keep it in the backseat, while the internal strap keeps your dog in the Lookout by attaching to their harness. No more wandering the backseat or climbing up to the front while driving. The Lookout is a safer alternative to holding your dog while driving or giving them free rein in the car, so everyone can enjoy the ride with peace of mind. For safety, use with a dog harness not a collar.
MADE TO LAST. Many happy Lookout owners have had their Lookouts for 5, 10, or more years! Made with firm foam, the Lookout dog car seat keeps its shape while providing a comfortable, supportive seat for your dog. The exterior, zippered cover is easy to remove for cleaning. The ease with which you can clean the Lookout gives this product a long lifespan.
FABRIC. This Snoozer I Lookout features quilted, poly-cotton fabric on the exterior, and plush Sherpa on the interior. With a poly cotton cover, this car seat is soft to the touch while strong enough to handle daily wear-and-tear. Our poly-cotton exterior is fade-resistant, shrink-resistant, and wrinkle-resistant, which means it holds up to heavy use and regular cleaning while still looking great. The Sherpa interior provides a soft and snuggly place for your dog to snooze in extreme comfort.
SIZING. This Small Lookout I is only recommended for pets up to 18 pounds and measures 19″H X 15″W X 17″L (exterior) and 12"W x 14"L (interior). Before you buy a Lookout always measure your pet's sitting/sleeping dimensions and your car's seat dimensions and compare them to the Lookout's interior and exterior measurements. The size you order will need to reflect the size of the space available in your vehicle as well as the size of your pet. Please scroll down to our sizing guide for more info.
The lining is simulated lamb's wool making this a very comfortable seat.
Lots of colors to choose from.
Includes strap to connect seat belt to harness.
Sits high enough for your dog to be able to see out of the window.
Summary
The Snoozer Lookout is aptly named as it's so soft and cozy your dog is likely to want to curl up and go to sleep in it. And even if they don't, it sits high enough in the car that they'll easily be able to see out and enjoy the view.
As this seat comes in a wide variety of colors, if you're choosy about what seat you want or you want to match your car seats as well as possible, then this may be the ideal seat for you.
---
Solvit Tagalong pet booster seat
PetSafe Happy Ride Quilted Dog Safety Seat - Pet Booster Seat for Cars, Trucks and SUVs - Included Seat Belt Tether - Durable Padded Liner is Machine Washable and Easy to Clean
SAFE TRAVEL: Protect your pup with his own car seat; strap in and buckle up with the included Happy Ride Seat Belt Tether; for maximum safety, use the Happy Ride Safety Harness (sold separately)
STRONG AND STURDY: Rigid plastic frame is easy to put together; pieces snap in place without tools; strong but lightweight; easy to install on any bucket or bench seat; supports dogs up to 30 pounds
COMFORTABLE RIDE: Includes quilted liner and a pillow to cushion your pet; provides security and stability to relieve anxiety and motion sickness in the car; perfect for relaxing or naps on long trips
EASY TO CLEAN: Removable cover is machine-washable; keep roaming or restless dogs secure to protect your fabric or leather seats from pet hair, scratches and messes
DIMENSIONS: Interior seat measures 14 inches long x 18 inches wide x 8 inches high; total exterior dimensions are 22 inches long x 17 inches wide x 17 inches high
9 inch elevation gives your dog a great view.
You can remove the lining for washing.
Safety tether for connecting to your dog's harness is included and has been strength tested up to 2,1000 lbs.
Easy to fix into any car, you don't need a headrest.
Lifetime warranty is included.
Summary
There's plenty of room for small dogs in the Solvit Tagalong booster seat and plenty of luxury too. The padded foam interior is removable and washable so you can keep it fresh and clean.
As the padded floor of the seat sits nine inches above the car seat, your dog gets a great view of the surroundings as you drive along.
This may not be the cheapest dog car seat but it's one of the sturdiest and safest. The safety tether is also very strong and reliable so you can rest assured that your dog is travelling safely.
---
Conclusion
All these products deserve their place on any list of the best small dog car seats. My own personal favorite, and that of my dog too, is the Cozy Boost. My dog used to hate travelling in the car but now she doesn't mind one bit and loves settling down into her car seat. Although she likes to watch where she's going sometimes, for which this seat is great, most of the time she spends snuggled up asleep.
---
Dog car seat buyer's guide
As dog lovers we want to protect our precious pooches from danger and upset wherever possible. One of the most stressful, and potentially dangerous, times for a dog is during car rides.
Indeed, not only can it be dangerous for your dog but also for you if your dog is jumping around excitedly and trying to get into the front of the car. According to a 2011 survey by the American Automobile association, 23 percent of drivers have used their hands or arms to keep their dog in place while they were braking.
This is obviously dangerous behavior and reinforces the importance of restraining your dog whilst in the car. Using an inferior or inappropriate car seat is almost as dangerous for your pooch though. As we all want the best for our dogs, it's important to know what to look for when choosing the best car seat for your dog. Here are a few things you should look out for:
Appropriate size
Your dog car seat must be sturdy enough to support the weight of your dog, especially if it's a raised seat to allow your dog to look out of the window.
The seat also needs to be roomy enough for your dog to sit or lie comfortably.
Stability and safety
There are two safety aspects to take into account when choosing a dog car seat – how the seat attaches to the actual car seat and how your dog is restrained within its seat.
Dog car seats attach to the actual car seat using the car's seat belt. The more attachment points there are, the more stable and secure the booster seat will be.
The best dog car seats also have an internal leash or tether that attach to your dog to keep them safely within their seat during your journey.
Ease of use
It's important that your dog's booster seat is easy to install and remove. You don't want to spend a long time struggling to install the seat before a long journey, making you stressed and irritable, emotions that you may also transfer to your dog.
A lot of cheaper dog car seats are a lot harder to setup than better products. The struggle to install/remove cheaper seats also adds to the wear and tear on them, reducing their lifespan.
The better quality dog car seats are also foldable, making them more convenient to store both in your home and in the trunk of your car.
Ease of care
You don't want to be transporting your dog in a dirty car seat. Not only is it unhygienic for both your dog and you, it's also likely to be smelly too.
The best dog car seats usually have a removable liner that can be machine-washed, making it easy to ensure your dog travels in clean comfort as well as style.
---
Introducing your dog to their new car seat
Some dogs are nervous travellers and don't like being in the car, so adding a new strange element such as a car seat can make them even more fearful. If your dog is like this, it's important that you don't just spring their new seat on them on a long journey.
Instead, take the time to gradually introduce them to their seat, allowing them to get used to spending time in it and gain confidence before taking them anywhere.
Use treats and verbal praise and petting to reward your dog for sitting in their seat. Start with short periods of time and gradually build up until they're completely comfortable sitting or lying in their seat. Then you can start to take them on short journeys, again gradually building up to longer trips.
If you're having trouble with this, maybe because your dog is very fearful of the car, try taking the seat out of the car altogether and getting your dog used to spending time in it in a location they are completely comfortable with, e.g. in your house or yard.
With a little patience and effort, and plenty of praise and rewards, your dog will eventually come to recognise their car seat as a happy place they enjoy spending time in.