When you travel with your dog, you want them to be happy, safe and secure. And that means you don't want them to be free to move around and dangerously distract you. A good dog car seat will provide your dog with comfort and a touch of luxury while at the same time keeping them safe by tethering them to the seat belt. Below, we take a look at some of the best small dog car seats.
It can be a pain for both you and your dog when you have to go on car rides together. Indeed, it can even be dangerous.
It can be a nervous and frustrating time for your dog, and it can be worrisome and distracting for you too if your dog refuses to settle and wants to keep running around, or howls and whines for the whole trip. And that's where car seats for dogs can be really handy.
A nice comfortable seat will not only keep your dog safe by preventing them from moving around but will also encourage them to lie down and sleep due to their sheer comfort and coziness.
Here are reviews of some of the best small dog car seats on the market.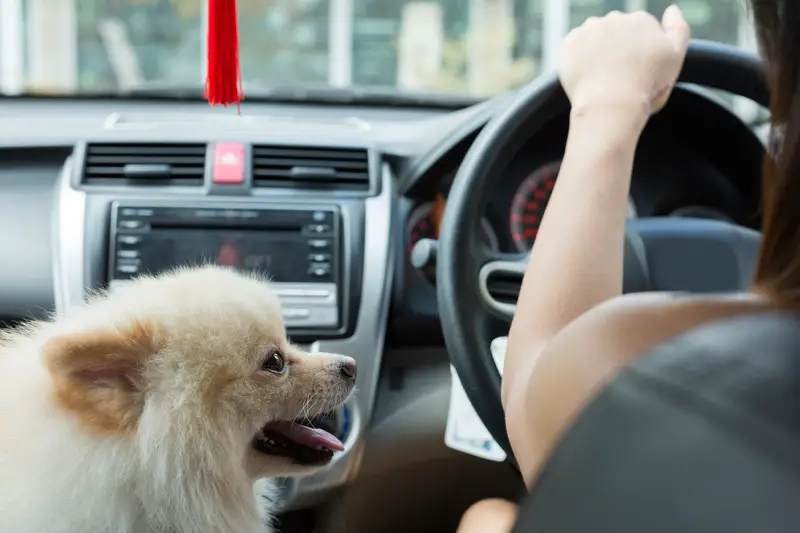 The best small dog car seats
Cozy Boost dog car booster seat
Features
Detachable safety leash.
The height is completely adjustable to whatever height you desire, allowing you to use this seat in both the back and the front of the car.
Liner can be removed and is washable.
Super thick padded floor along with plus lining makes this seat really comfortable for your dog.
Completely collapsible.
Summary
With its thick, soft padding the Cozy Boost will let your dog ride in true comfort and luxury. The safety leash inside the seat stops your dog from getting out so keeping them safe on their journeys.
Your dog is likely to sleep most of the time when using this seat (mine does!) but even if they don't, they'll be quite happy as its raised height means they can enjoy the scenery as you drive along.
The fully adjustable height means you can easily switch the seat from front to back of the car depending on how many people you have travelling with you, and the fact that the liner can easily be removed (it's attached with velcro) makes it easy to clean.
---
Kurgo Skybox dog booster seat for cars
Features
The seat belt tether is adjustable and attaches to any harness to keep your dog safely in their seat.
Quick and easy installation.
Sturdy and durable; the seat is waterproof and the metal supports mean it's very strong.
Lifetime warranty.
The seat is completely collapsible making it easy to store when not in use.
Suitable for use in both the front and back of the car.
Zippered storage pockets.
Summary
The Kurgo Skybox is a remarkably sturdy small dog car seat and is recommended if you want one of the most robust seats on the market. The adjustable seat belt tether attaches easily and simply to any dog harness giving you peace of mind that your dog won't be able to leap out of their seat.
The height is adjustable allowing you to use the seat in both the back and front of the car, depending on passenger numbers. Like the Cozy Boost, this seat is also fully collapsible allowing for easy storage.
Added bonuses are that this seat includes storage pockets to let you transport your dog's favorite toys and treats too, and it comes with a lifetime manufacturer's warranty.
---
Snoozer Lookout dog car seat
Features
The lining is simulated lamb's wool making this a very comfortable seat.
Lots of colors to choose from.
Includes strap to connect seat belt to harness.
Sits high enough for your dog to be able to see out of the window.
Summary
The Snoozer Lookout is aptly named as it's so soft and cozy your dog is likely to want to curl up and go to sleep in it. And even if they don't, it sits high enough in the car that they'll easily be able to see out and enjoy the view.
As this seat comes in a wide variety of colors, if you're choosy about what seat you want or you want to match your car seats as well as possible, then this may be the ideal seat for you.
---
Solvit Tagalong pet booster seat
Features
9 inch elevation gives your dog a great view.
You can remove the lining for washing.
Safety tether for connecting to your dog's harness is included and has been strength tested up to 2,1000 lbs.
Easy to fix into any car, you don't need a headrest.
Lifetime warranty is included.
Summary
There's plenty of room for small dogs in the Solvit Tagalong booster seat and plenty of luxury too. The padded foam interior is removable and washable so you can keep it fresh and clean.
As the padded floor of the seat sits nine inches above the car seat, your dog gets a great view of the surroundings as you drive along.
This may not be the cheapest dog car seat but it's one of the sturdiest and safest. The safety tether is also very strong and reliable so you can rest assured that your dog is travelling safely.
---
Conclusion
All these products deserve their place on any list of the best small dog car seats. My own personal favorite, and that of my dog too, is the Cozy Boost. My dog used to hate travelling in the car but now she doesn't mind one bit and loves settling down into her car seat. Although she likes to watch where she's going sometimes, for which this seat is great, most of the time she spends snuggled up asleep.